Military Grade Computing & PNT
All of our rugged Windows tablets and rugged Android tablets below can be configured for your individual needs. With a wide range of Android and Windows rugged tablets from 5.6" to 14" screen sizes, Steatite can help you select the best device for your application.
Fully Rugged – Our tablets are fully rugged and can survive a drop from as high as 1.8m and hold Mil-STD certification.
Accessories – Rugged accessories to complement your rugged tablet, including docking stations, vehicle docks and PSUs, carrying solutions, spare batteries, and chargers.
Connectivity & Configuration  – 4G and GPS connectivity can be configured as can a wide range of I/O ports, dedicated barcode readers, RFID and much more.
ALL Weather – Our rugged tablets are IP rated and have sunlight readable screens for use in all-weather conditions.
Warranty – Up-to 5 years warranty including accidental damage options with our rugged tablets.
If your required specifications are not listed then please feel free to contact us and we will recommend the best solution for your rugged tablet requirements.
Manufacturer
Product Type
Screen Size
Resolution
Brightness
Processor Type
Memory Capacity
Storage Type
Expansion Type
Display Outputs
LAN Ports
USB Ports
OS Support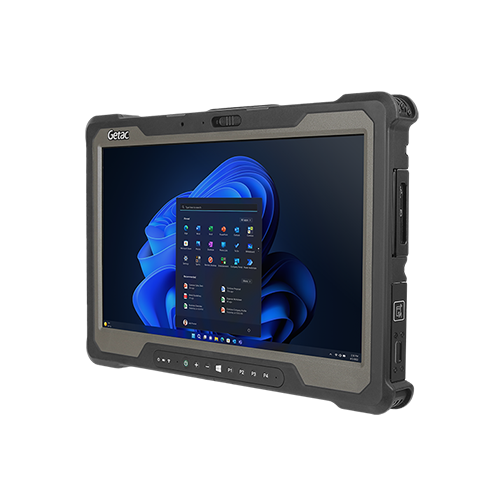 Getac A140 G2 14″ FHD/HD Fully Rugged Windows Tablet With 10th Gen Intel® Core™ CPU
Want a more bespoke solution?
Get in touch with our technical specialists who will contact to discuss your requirements and best advise on the most suitable solution.